How can I get there?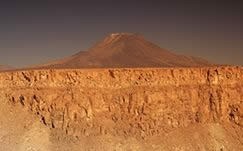 San Pedro is located 1.670 kilometers north of Santiago, the capital of Chile. To get to San Pedro, first we must get to Calama, the nearest city, joined to San Pedro by an excelent paved road with a gorgeous desertic landscape.
By bus:
The trip takes up to 20 hours from Santiago. There are high quality services buses with semi-bed seats.
You can ask for rates and schedules in the following buses companies, with semi-bed and standard seats: TurBus, Pullman Bus, Géminis.
By Airplane:
It is the fastest way to reach Calama and then get to San Pedro de Atacama, 98kms (60 miles) away.
Through Lan Chile Airlines there are five daily flights from/to Santiago during weekdays and three ones during the weekend.
The cheapest round trip tickets cost about $120.000 pesos (US$170). To get them you have to buy your ticket at least four or seven days before the flight starts and a Saturday must be included in your stay.
By car:
For those who like the adventure of getting to San Pedro by car, you have to take the Route 5 - Panamericana Norte.
It is recommended to split the trip in two; the first stop in Caldera (870 km) or Bahía Inglesa and then continue the next day directly to Calama (800 kilometers), where you can get all the provisioning needed for San Pedro.
From Calama City:
There are a lot of transfer companies (Tur bus, Pullman Bus, Géminis) which are located in their own station. The ticket is around $1.400 chilean pesos (US$3).
From Calama Airport:
There are minibuses (Transfer service) and the rate is $6.000 chilean pesos (US$10) approximately.