Legends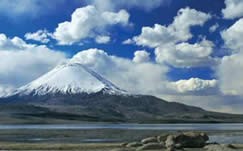 THE SPIRIT OF LICANCABUR VOLCANO
At the time that the Incas had extended their empire by the north and center of Chile, the Spirit of Licancabur Volcano, now extinguished, let feel his fits of rage to the natives who inhabited their neighborhoods.
In order to calm the God, the natives prepared a trimmed stone load and other presents. With it to their back they climbed until the top of 6,000 meters of the volcano. There they constructed his pircas and they deposited his offerings; after making their orations, they returned light, with his fears already calmed.
The descendants of those natives still show their reverence to the Spirit of the gigantic volcano and pircas that exist in his summit.
To accede to Licancabur Volcano the ascent between dry and curved gorges is begun until arriving on the brink of madness cone from the volcano, surrounding it by the south. Is the most impressive panoramic view of all salt to the evening, with perfect visibility of the San Pedro oasis.
It is located to 60 kilometers to the east of San Pedro de Atacama. It has a height of 5,916, from its top a considerable radius of the environs such as San Pedro de Atacama oasis, the Atacama salt and the Green Lagoon (laguna verde), in Bolivia can be appreciated.
The volcano, during a visit to San Pedro de Atacama, is always present in the landscape due to the proximity that is. It has an impressive vertical unevenness of more than 3,600 meters of height. It is possible to ascend until the cone itself, crossing curved; the time is of around 12 hours walking.
In the crater a lagoon covered with ice exists during the winter season. For making this ascent you must be in optimal physical training conditions, to have experience, its own equipment to scale and a good capacity of adaptation to that height.