Puritama HotSprings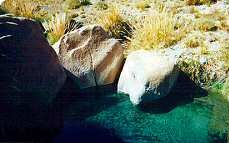 It is located 30 kilometers from the north of San Pedro and counts with pools of thermal waters (30 °C) that are produced by the appearance of the hot water river Puritama. Located in a mountainous tube, with a great natural beauty. These baths are a difficult experience to forget for the lovers of thermal waters in the heat of desert .
Constant thermal water source with fluids between 25º to 30ºC., with curatives properties for rheumatic diseases.
This sector, formerly visited by incas natives, is located in the way towards El Tatio Geysers, in a steep bankruptcy, that when descending, it has vegetation and a pool with 8mts. of diameter and that has been formed by the affluence of thermal internal water that arises around 30º C. The medicinal properties of the water are indicated for the rheumatism and muscular pains.
It is a wonderful place where to rest, with a basic infrastructure composed of dressing rooms, bathroom and wood footbridges, combined with the vegetation that hangs on the edges.
Puritama, which in its language means "Puri" (water) and "tama" (warms). Everything in the zone smells of purity and spiritual cleaning. Perhaps for that reason the villagers decided to give it that name.
During years, the thermal sources, were of exclusive use of the inhabitants of the zone. At the present time the spas are property of the Hotel Explora, as result, altogether with the Council of Atacameñans Towns are in charge of the support of the place and thus, which before only was an oasis in the middle of the desert today is a more attractive place for the tourism with good level facilities.
Today Puritama looks modern, natural and harmonic.